CUSTOMERS FIRST: Dominate Your Market by Winning Them Over Where it Counts the Most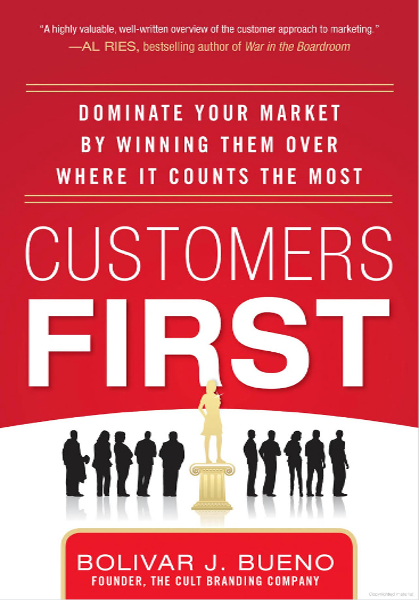 by Bolivar J. Bueno (McGraw-Hill 2012)
Dominant organizations—companies like Nike, Apple, Harley-Davidson, and Ikea—seem to consistently pick the right course. They seem to know what the customer wants, even before the customers know they want it. They enjoy unparalleled customer loyalty, and that's not all. Dominant organizations seem to make fewer mistakes than their competitors. They make better decisions and enjoy greater profitability. When you're equipped with a comprehensive, multi-dimensional understanding of your customer, you can consistently choose the right course for your company.
---
THE POWER OF CULT BRANDING: How 9 Magnetic Brands Turned Customers Into Loyal Followers
by Matthew W. Ragas & Bolivar J. Bueno (Random House 2002)
Praised by marketing mavens Jack Trout, Al Ries, Jay Conrad Levinson, and Jeffrey Fox, this meticulously researched book uncovers the remarkable, untold stories behind nine very successful cult brands and the Seven Golden Rules that each instinctively follow.
---
CULT BRANDING WORKBOOK: Seven Steps to Understanding Your Customer and Cultivating Brand Loyalty
by Bolivar J. Bueno (2007)
Want to create a Cult Brand? In the Cult Branding Workbook, BJ Bueno walks you step-by-step through the process of developing a brand your primary customer will love. From crafting your brand lover statement to understanding the human needs of your customer, you'll learn what it takes to cultivate true brand loyalty. (Also available in Kindle and audio.)
---
WHY WE TALK: Seven Reasons Your Customers Will—Or Will Not—Talk About Your Brand
by Bolivar J. Bueno (2007)
In Why We Talk, gifted marketing strategist and professional listener Bolivar J. Bueno dissects the evolution of word-of-mouth in the digital age and the unmistakable power shift that has taken place between marketer and consumer. Sharing one of the most insightful, organic concepts of this decade, Bueno bridges the monumental gap between the results business people want and the frustration they often get. (Also available in Kindle and audio.)